Weddings
You may want contemporary or more traditional, simple and relaxed or eventful! Every couple has their own uniqueness. You may wish to have your special day in a hotel, at home, on a beach, a sacred site or woodland.
Your choice of ceremony can be religious, non religious, spiritual or otherwise. It will be written with you, about you and for you as a couple, any location or format of your choice. There are no set rules!
Ceremony Elements
Unity Candle Ceremony
---
The unity candle ceremony uses two taper candles with a large pillar candle (called the "unity candle") in the center. At the beginning of the wedding ceremony, the couple or a representative from each family (usually the mother) light the two taper candles. When the couple completes their vows they light the center unity candle together.
---
Ring Warming
---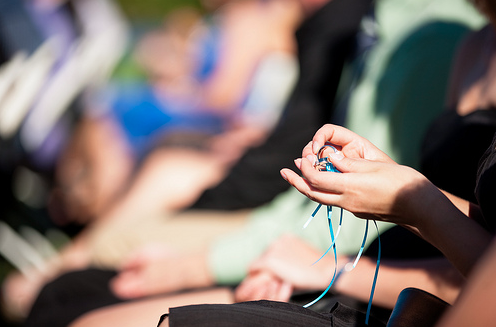 A ring warming ceremony gives wedding guests an opportunity to hold your wedding bands and wish you good luck for your marriage. Each guest will, briefly, hold your rings either before or during your ceremony and take a moment to bestow their blessings upon them. It is a meaningful way to involve all your guests in the ceremony and makes your wedding bands so much more significant knowing that you are wearing everyone's blessings on your finger!
---
Wine Box Ceremony
---
A wine box ceremony is a wedding ritual in which, during the ceremony, a bottle of wine (or preferred tipple) is enclosed into a box. Some couples opt to add an extra layer of meaning within the ceremony by including love letters to one another alongside the wine, or by designating a specific occasion (such as your anniversary) when the box will be opened and the wine will be drank. How lovely...
---
Tree Planting Ceremony
---
Do you want something that will grow as your love grows over the years, and not a the usual keepsakes from your wedding day that can be forgotten? You may be interested in doing a Tree Planting Ceremony.
There are a couple of ways to include a Tree Planting Ceremony. Your mothers can contribute soil from their family homes in glass containers – you can have the containers decorated and placed on a table near where you will stand for your ceremony. The soil can also come from other family members which represents a blending of lives. The couple add the soil to the potted tree you will be planting in your home together. A lovely symbol of planting roots together & watching a physical representation of your love growing over the years.
---
Sand Ceremony
---
A clear glass vase is placed on the ceremony table. This is often accessorised or engraved with the couple's initials or names and the wedding date. - Two smaller vases containing different coloured sands are placed either side of the central vase, for the couple. These sands can be in the wedding colours. - During the wedding sand ceremony, the couple take turns to pour sand from their individual vases into the central vase, creating a layered effect. It is also a lovely way to include children, using different coloured sand for each family member. - Finally they pour the remainder of the sand into the vase at the same time so that the two colours combine and can't be separated, symbolising their unity in marriage.
---
Hand Fasting
---
An old Celtic tradition where the couples hands are tied together with ribbon or cord. This symbolises that you are bound together and is where we get the expression 'Tying the knot'.
---
---